Wireless High-Speed Internet.
For The Rest Of Us.
Rural Home. Rural Business. RV Wi-Fi. Cellular Backup.
Online Gaming
4k Video Streaming
Video Conferencing
Easy Self-Install
Travel With Wi-Fi
Pay As You Go
Unlimited 4G LTE
No Data Limit
No Throttling
No Contract
No Credit Check
As Seen On







Welcome to Unlimitedville.
Welcome to a whole new way to experience a connected home—one that previously was thought impossible. Welcome to the magic of streaming the big game in 4k from a rural farmhouse. Welcome to staying connected in your RV while traveling the countryside. Welcome to competitive online gaming with friends from a cabin in the middle of the woods. Welcome to a high-speed internet service without any wires. Welcome to Unlimitedville.
Online
Gaming
4k TV
Streaming
HD Video
Meetings
How It Works.
Using the latest cellular technology, we provide truly high-speed wireless internet to virtually every corner of the country.
Visit our FAQ page to learn more.
Cellular Towers
We offer unlimited data plans for each of the three major cellular carriers. Similar to a cell phone plan, choose the network that has the best coverage at your location.
Cellular Routers
Our Unlimitedville routers connect to the cellular towers in your area, providing a high quality, stable LTE data connection, similar to your cell phone.
Connected Home
Our cellular routers then broadcast a high-speed Wi-Fi signal to all your home and office devices such as computers, 4k smart TVs, online gaming consoles, and more!
14 Day, No Risk, Money-Back Guarantee!
'Unlimited' sound too good to be true? Try it risk-free and see for yourself.
What Members Are Saying…
Get the truth from real members.
Verified Member
Unlimitedville changed our lives. We were actually going to move due to our teenagers' streaming and no good ISP alternatives. Then, we found this site. We have 2 Pink plans in place for several years, and my house is happily using AppleTV/XBox/PC/YT/Zoom, etc. without any issues. It helps to have a… [
read more
]
Verified Member
The customer service is beyond exceptional! The Support team was very responsive and ensured that every thing that I made mistakes on was corrected. They were pleasant and helpful! I would recommend this service to anyone! Not to forget to mention, the service itself is nothing short of amazing!
Verified Member
The customer support team is really amazing. I am always blown away by how quick they get back to me when I have a question. They are super helpful and will actually listen to you. Customer support like this is rare and makes me never want to leave as a customer because of it. Telecom support is nor… [
read more
]
Verified Member
I recently purchased a home in rural southwest Virginia. My internet options were extremely limited due to my location. I found Unlimitedville and I am sure glad I did. They recommended the Red Plan and it has been excellent. I can stream live TV via YouTube TV with no buffering or delay… [
read more
]
Verified Member
I live in the County of Sonoma. You would think I would have better option than ATT DSL 3, which is max 3 MPS download. I tried satellite and point to point microwave and the best I could do was 12mps download for $150 per month with microwave PTP but the service was unreliable. It went down every o… [
read more
]
Verified Member
I have the blue plan, and the internet is AMAZING! it's so fast, and in my home we have multiple devices connected at once. Video streaming is so fast and there's no lag whatsoever. Couldn't be happier with my service. I live in an area where theres 2 internet providers and I have been on a waiting… [
read more
]
Join the Unlimited
Ville

Community Today.
How We Do It.

Unlimitedville is a membership organization that provides Unlimited, Uncapped Wireless Data to our members. We don't resell our data plans with the 3 major carriers, we simply let you use our Unlimited Routers and Hotspots for as long as you are a member. All carriers have unlimited data plans that are just not available to the public. When you join Unlimitedville, you are now part of our connected community that works to get you online and keep you online with fast, reliable, wireless data.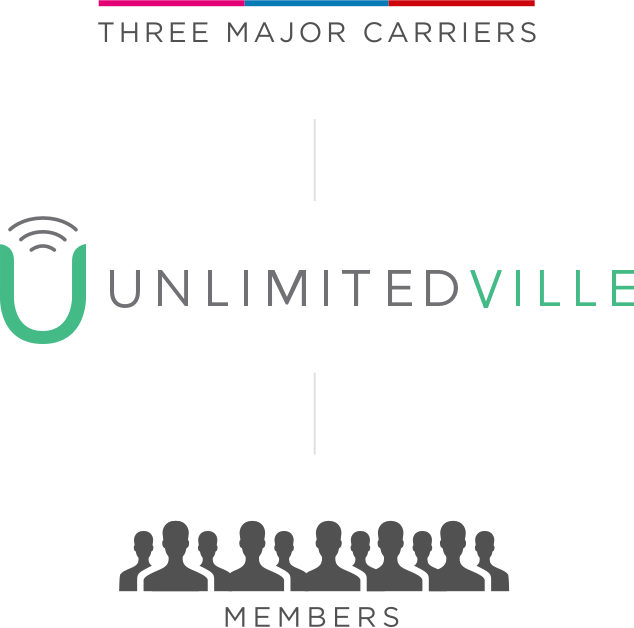 Unlimited Phone Data Is Not
Unlimited Home Data.
The 'unlimited' phone plans that carriers offer are ONLY 'unlimited' for data used on the phone and only allow 5-10gb of tethering/hotspot usage per month. (The ability to use the phone's data with other Wi-Fi devices such as a computer, tablet, etc.) Our hotspots and routers are specifically designed to broadcast unlimited Wi-Fi for EVERY connected device in your home or office including laptops, smart TVs, gaming consoles and other Wi-Fi connected devices.
We've Got Answers.
See the frequently asked questions below to learn more about Unlimitedville membership.
Is all of this for real? This seems too good to be true!
YES we are for real! We started the Unlimitedville Community almost a decade ago to provide flat-rate, affordable internet access to individuals who do not have access to traditional high-speed internet options and suffer from extreme overage charges. Our community of members benefit from unlimited and unthrottled plans/devices which they are able to utilize during their membership. Our mission is to connect the unconnected.
Do I have to sign a contract? Credit check? Are these really month-to-month plans?
All of our plans require no contracts or credit checks! Yes, these are month to month plans. Each payment pre-pays for your next 30 days of membership. You may of course cancel your subscription with us at anytime by simply returning your device to Unlimitedville. Monthly charges will continue until the device has been received. Additionally, our 14-Day Money Back Guarantee allows you to try our service at No Risk! If the service does not meet your needs in any way, simply return the device within 14 days of receipt for a complete refund of your entire order!
What internet speeds can I expect?
The speeds of all of our routers / hotspots depend entirely on several key factors. 1) How close are you to a cell tower in your area? 2) What type of connection and antennas does the tower have? 3) How much network congestion does the tower have? We have members getting over 90+ MBPS from those who are closer to a cell tower with LTE+ (Advanced), all the way down to 5 MBPS who are too far from the cell tower that corresponds to their plan. Therefore, you'll want to pick the best carrier membership plan that has the strongest LTE signal where you are located to ensure the fastest speeds possible. Visit our 'Help Me Choose' page for tips on determining which plan is right for you. Unlimitedville.com/help-me-choose
How easy is it to setup?
Our wifi routers are truly plug and play! Simply plug the router into the wall and connect your devices to the WIFI network! (Note: please be sure that you have a strong LTE signal from the carrier plan that you are subscribing to or it will not work.)
How is this different from my Unlimited Phone plan? Do I need to choose the same carrier?
Unlimited phone plans are ONLY unlimited for PHONE data use. Unlimited phone plans typically only allow 5-20gb of tethering. (which means the ability to use the phones data with your computer, tablet, or other connected devices.) That is the equivalent of streaming a couple HD Netflix movies. Unlike an unlimited phone plan, our plans and devices can entirely replace your slow home or office internet solution for an unlimited, unthrottled, high-speed wireless data connection. Although you are not required to choose an Unlimitedville membership plan that is the same cell-carrier as your phone plan, many of our members ARE on the same plan as their cellular provider, since they know it already works at their location.
WHICH UNLIMITED PLAN IS BEST FOR ME?
Each color represents one of the three major cellular carrier networks. Therefore, the primary difference between each plan is the coverage each network provides. The best approach is to choose the cheapest plan option that has coverage at your location. Our 14-Day No Risk GUARANTEE is designed so you can test a plan at your location and return if it does not perform well. Then if you choose, you may select another plan option to test. For help with selecting a plan, visit the Help Me Choose page for detailed step-by-step instructions. Unlimitedville.com/help-me-choose
What Happens If What I Choose Doesn't Work?
If the plan you initially choose does not connect or is slower than expected, this most likely means a lack of LTE coverage/reception at your location, or less commonly, the cellular tower your device is connecting to is either using outdated antennas or is congested from high usage in your area. Regardless of the reason, our 14-Day No Risk Return Policy has you covered. Simply return your device for a 100% refund and let us help you choose a better plan for your location.
Can i watch streaming 4k TV using your service?
YES! You can stream high definition video from any of your smart tv streaming apps with our service.
Does online gaming work with your service?
YES! Online gaming works using our service with Xbox, Playstation, Computer, etc. Performance (ping/speed) varies based upon your proximity to a cell tower, the speed of the tower, and local tower congestion. Many of our members have reported excellent experience when using our service for gaming.
What makes your service so special compared to other internet providers?
For starters, we are VERY different from our competitors. We believe in incredible member experience. We believe getting help or service should be quick & simple and in the method YOU want. We believe you shouldn't pay for a single day that you don't have service/connection.

Unlimitedville brings the best of all worlds to people looking for rural and/or mobile internet. DSL is very slow and can have limited data plans. Satellite Internet has high latency (no gaming or streaming!) and limited data plans. The largest Hotspot plans from T-Mobile, AT&T, and Verizon are 50gb-150gb with expensive price per-gb if you go over the usage limit. The average household in America uses 513gb per month for their home internet service, far above other available options. With Unlimitedville, your household or business can be free of data and speed limitations all with low latency for a flat monthly rate. For more information, view our PROVIDER COMPARISON CHART.